Almus reaches 10 year milestone in the UK
May 2013
Almus, one of the fastest growing and most innovative ranges of generics medicines in Europe, celebrated its 10th anniversary in the UK this month.
To mark the occasion Ornella Barra, Chief Executive, Pharmaceutical Wholesale Division, Alliance Boots, was presented with a commemorative award by Rob Darracott, Chief Executive of community pharmacist association Pharmacy Voice, at a celebratory event at Alliance Healthcare in Chessington on 1 May 2013.
When Almus was launched in the UK in 2003, it was a catalyst for change in the generic medicines industry with its unique coloured packaging. Over the years, the packaging has helped pharmacists ensure medicines are dispensed correctly and increased safe patient usage.
Ten years on and the award-winning range has expanded rapidly with volumes growing from tens of thousands per month when first launched, to now millions distributed to pharmacies across the UK. Established in France and Spain, and through associates in Portugal and Italy, the number of products within the range has steadily increased.
Ornella Barra said: "As a pharmacist, I understand how essential it is to have clear packaging to help ensure safe dispensing and patient usage. The 10th anniversary of Almus is a testament to how well the range has been received in the UK and to the dedication and commitment of the team. Almus has also become a successful European brand and our objective is to make it fully international in the coming years."
Tony Foreman, CEO, Almus Pharmaceuticals, added: "The 10th anniversary of Almus is a significant milestone for the brand. When it was launched, Almus set a gold standard in medicines packaging which the generics industry still follows. We will continue to work closely with pharmacists and patients to ensure that Almus meets their needs."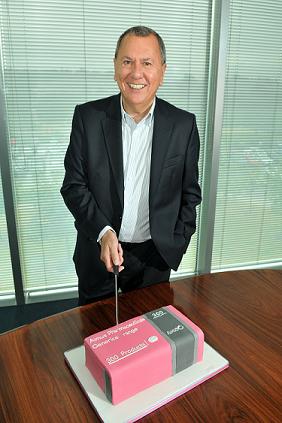 Almus works with some of the world's largest generics companies, most recently with Pfizer on the launch of Almus Atorvastatin, one of the most prescribed statins in the UK used to regulate blood cholesterol levels.
Jason Perfitt, Head of Customer and Channel Marketing at Pfizer said: "As Pfizer entered a new phase in its corporate development, we needed to work with a partner that shared many common values: integrity of supply chain, high quality product lines and with patient care at the centre of all that is done. We found these values were common to both Pfizer and Almus and so we have been delighted to partner with the brand. We congratulate Almus on its 10th anniversary and wish the team continued success."
Sara Vincent, VP Actavis UK and Ireland said: "Congratulations to Almus on its 10th birthday - this is a significant milestone in the growth of the Almus brand. Actavis is pleased to be a major supply partner to Alliance Boots and wishes Almus continued success."
Simon Nelson, pharmacist at Nelson Pharmacy in Wales and Almus customer said: "The Almus range is distinctive, high quality and our patients perceive it as a trustworthy brand. Trust and honesty are vital qualities expected by our customers and the Almus brand helps deliver our customers' expectations."
Almus continues to work extensively on range development. In 2012/13, Almus has launched Lormetazepam, Buspirone, Co-Fluampicil, Fluoxetine, Hydralazine, Glipizide, Risedronate, Nystatin suspension and Atorvastatin.
In addition to the generics range, the company continues to expand the Almus range of Over the Counter (OTC) products. Launched in 2008 in the UK, the Almus range of OTC products builds on the award–winning success and brand recognition of the Almus generics range and features over 30 popular lines.